GIANMARIA POTENZA
 AT THE
VENICE BOAT SHOW 2019
TRIBUTE TO VENICE AND THE SEA
BY LAURA VILLANI
18-23 / 06 / 2019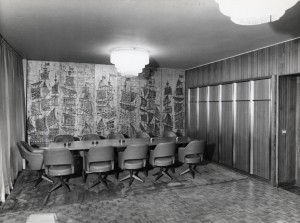 The Venice Boat Show (Salone Nautico Venezia) is an exceptional occasion on which to present to the public the resplendent Sailing Ships by Gianmaria Potenza. Designed to evoke the sea, this large work was made in 1964 using pyrography on wood with gold leaf. The Banco di Roma commissioned the work for its Bari headquarters: the bank had commissioned the artist to create great works for its offices in cities all over the world, identifying for each city those elements which symbolised the essence of the place.
Following the reconversion of the space, the series of works was acquired by a private collector who, in addition to ensuring its conservation in its entirety, wished to make it available to the public.
The architect Laura Villani decided on this occasion to bring the work back to Venice, the city where it had been conceived and created. A piece that portrays the very personal graphic signs that characterize all of Potenza's artistic work. A symbolic handwriting that continues to modulate forms that became increasingly abstract over the course of his career.