25/04 – 27/05
Scuola Grande San Marco/
Portico delle Colonne
Venice
Gianmaria Potenza participates in the Scienza & Arte / Sogni & Voleri project devised by Renza Barbon, Honorary President of the Federazione Italiana Malattie Rare (Italian Federation of Rare Diseases) UNIAMO F.I.M.R. Onlus. The project was founded to raise awareness of rare diseases.

With a view to promoting cultural change in social, medical and political spheres, the project presents a metaphorical comparison between the process of producing Venetian /Buranello lace and the process by which a person suffering with a rare disease takes charge of their situation. The result of this reflection is a work of art created by a number of hands: those of the seven lace makers from Annabella Doni's Scuola del Merletto (School of Lace) and those of the artist Gianmaria Potenza.

Starting with the drawing of an engraving by Potenza, the seven lace makers created Venetian needle lace that is split into different parts according to the type of stitch used. The seven phases of the lace drawing's transformation process are narrated through Matteo Danesin's photos: Seven diptychs in black and white that portray the hands of each lace maker together with those of Potenza.
The Venetian artist then completed the work by integrating and experimenting with new materials: he inserts the copper wire as the heart and fulcrum of the work; then he assembles and fixes the different parts of the lace between two Plexiglas sheets. Finally, he draws the black base, also in Plexiglas, with a LED lamp that illuminates the work from below. Traditional technique and contemporary language merge in search of a new expression that strongly represents that network of connections between Science and Art.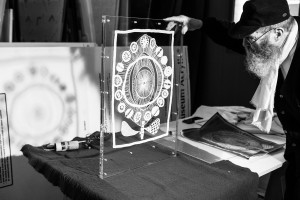 "Lace is a delicate art form with a complex production process. It is also a precious one since the knowledge of how to do it now rests in the hands of a special few. Their refined weaving resembles the engravings I use on glass. This is why I found it stimulating to work alongside the lace makers, to experiment and to come up with creative outcomes using different materials, such as Plexiglas and copper. The result is a work of craftsmanship that becomes art. This is because of the technical experimentation and search for form which goes into it, with both equally driven by the development of a complex motif". Gianmaria Potenza
The work will be exhibited at the Scuola Grande San Marco in Venice from April 25th to May 27th 2019 and, after a tour in several Italian cities, will be donated to the Lace Museum in Burano (Venice).
03/05
OPENING PARTY + CONFERENCE
h 14.30 – 17.30
Ospedale Civile SS. Giovanni e Paolo, Venice
Sala San Domenico
27/05
CONFERENCE "SCIENZA&ARTE" (Science&Art)
h 14.30 – 18.00
Ospedale Civile SS. Giovanni e Paolo, Venice
Sala San Domenico
To register as conference participant:
rinadalcanton@gmail.com –  0039 333 4283849
renza.barbon@gmail.com – 0039 348 9848038