FROM 29/05 TO 06/06 2021
ARSENALE
The Venice Rotary Club together with the Unione Italiana Ciechi e Ipovedenti della Provincia di Venezia (Italian Union of the Blind and Visually Impaired of the Province of Venice) present the initiative "SEA without borders ART without barriers", at the Venice Boat Show 2021. Visitors can experience an artistic and cultural introduction to Gianmaria Potenza's sculptures.
The international Venice Boat Show is promoted by the Municipality of Venice and brought about thanks to Vela SpA in collaboration with the Italian Navy.
This initiative was inspired by Astrolabio (Astrolabe), a large bronze work created by Gianmaria Potenza in 1997. Astrolabio is a 220 cm high work, which, like all this series of bronzes by the artist, was designed to be both seen and "explored", thanks to the tactile characteristics of the surface treatments and the mobility of the works, which can often be manually rotated.
Like the sea, art has no barriers. Both only require curiosity and attention for understanding, knowing and seeing with the eyes of the heart.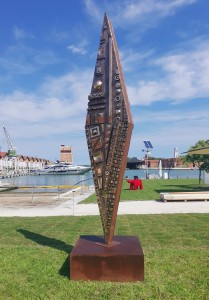 THE EVENT
On Wednesday 2 June, Maestro Potenza and Maestro Tagliaferri will guide some guests (limited access, subject to compulsory booking and in compliance with the containment measures provided to counter the health emergency created by Covid-19) on a journey combining art and the sea, in an original tour marked by fourteen Gianmaria Potenza sculptures that can be looked at, touched and rotated.
An interesting opportunity to experience art in an inclusive way serving the community.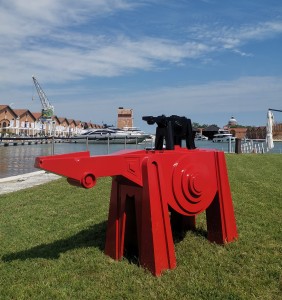 PROGRAM
The activities planned for the UICI visitor group include:
– Informative and educational lesson with the participation of Maestro Gianmaria Potenza and Maestro Felice Tagliaferri, in the spaces kindly provided by Thetis SpA;
– Visit to the Gianmaria Potenza's exhibition. The artist will accompany visitors to get to know his sculptures, in the large spaces of the Arsenale;
– During the visit, Maestro Tagliaferri will teach to see what goes beyond the gaze of the eyes, to learn to understand even without looking.
Info:
Antonietta Grandesso
Responsabile Culturale Thetis SpA
antonietta.grandesso@thetis.it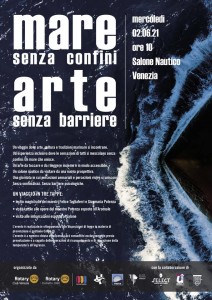 INFO  
SALONE NAUTICO DI VENEZIA 2021
29 maggio /6 giugno   
dalle ore 10 alle ore 20
ENTRANCE
Arsenale – Padiglione delle Navi
CONTACTS
FG Comunicazione-Venezia
info@fg-comunicazione.it
Davide Federici +393315265149
Cristina GATTI +39 3386950929
AVM/Actv and ALILAGUNA "ARSENALE" vaporetto stop
Giardino delle Vergini